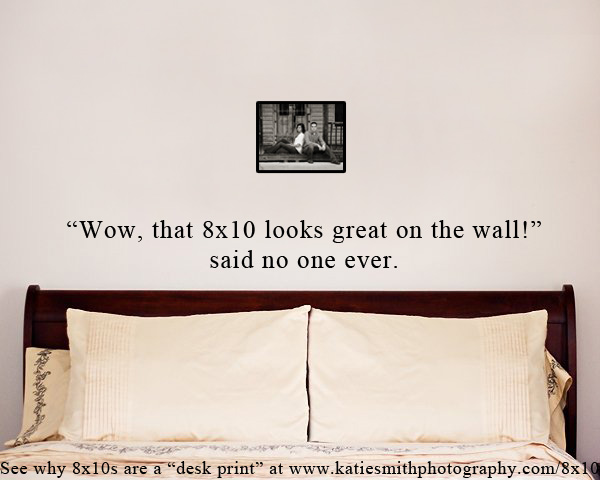 I blame school pictures for brainwashing us to think 8×10 is a suitable size to hang on the wall.  In those packages of awkward smiles and cheesy backgrounds, 8x10s sound big compared to the tiny wallets we were supposed to give to Grandma.  Have you ever seen one hanging solo on the wall?  In the example above, the 8×10 looks pretty lonely, doesn't it?  A little frame in a sea of wall space.  Can you even tell what the picture is of or what their expressions are like?  The faces are barely the size of a penny! I don't want any guests crawling onto my bed to take a better look.  8×10 and smaller are called desk prints.  They're the perfect size to put on your desk to remind you what really matters in life when you've been sitting at the computer for hours.
When it comes to hanging photos on the wall, your photos become more than just photographs but peices of art to decorate your home.  If you have ever bought curtains, you didn't just buy some off the shelf without knowing which window they were going on.  You pre-visualized and measured to find the perfect color and length for that window.  You should do this with your photography too!
Before your photo session, think about where you might want to hang your photos.  Draw inspiration for clothing from the decor in the room.  Stay within the tonal range and use the accent colors for a professional designer style.  Measure the area you'd like to hang photos and think about using 2/3 to 3/4 of the wall space for a print.
So knowing the 8×10 is way too small for over the bed, let's look at something bigger.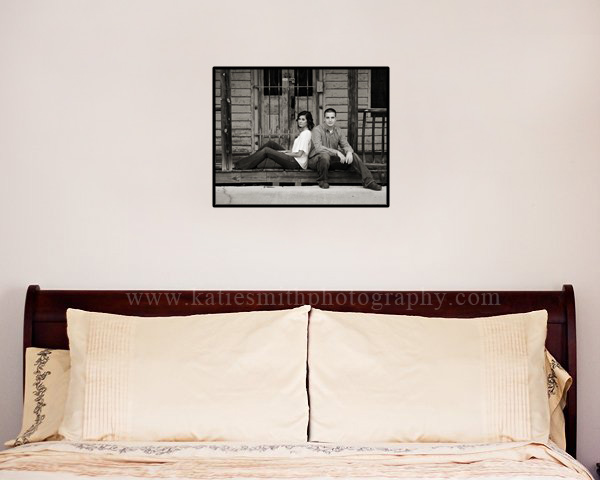 A 16×20 is the smallest I'd recommend for a wall print.  For over the bed, it still isn't making a big impact.  There's wall space on the sides that could be filled in with other prints to create a beautiful wall gallery or you could step up to the next size.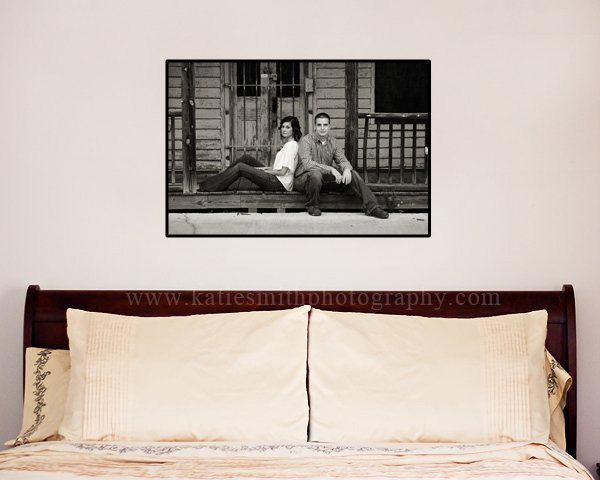 Now that's more like it!  The 20×30 provides a beautiful focal point for the bedroom.  With this size, you can still choose a ornamental frame or go frameless with a canvas.  This is the size I would go with.
But for kicks, let's step up one more time: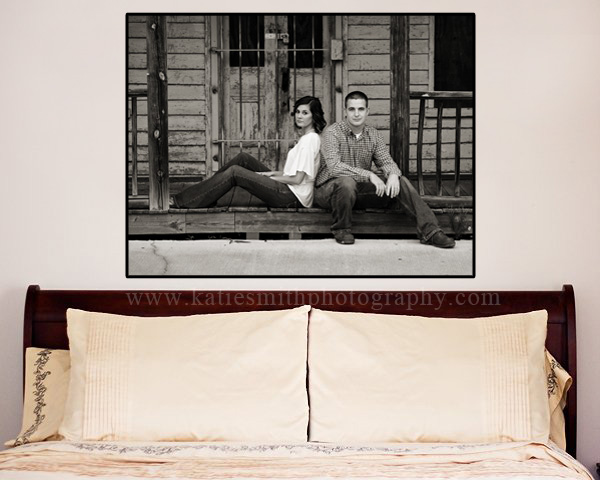 The 30×40.  This extra large print wouldn't work in my home due to low ceilings but if you have high ceilings, this size would look amazing over a fireplace.  It makes a huge impact that will stop houseguests in their tracks.  Do you have that perfect family portrait that is full length with lots of background?  This is perfect for that.
I know it's hard to visualize.  Once the numbers are in front of you, it gets overwhelming and it's easy to default to that safe little 8×10.  That's why I offer digital designing to my clients.  Send me a photo of where you'd like your portrait to hang and I can show you how your images would look in various sizes and wall galleries.  Soon you'll have company and they'll be exclaiming how much they love that big print on your wall.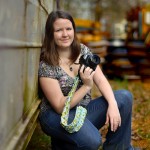 Katie Smith is a family and couple photographer in Killeen, Texas.
She used to be stuck in the 8×10 rut but stepped up to a 16×20.
After realizing that was still too small, she proudly shows off her 20×30 canvas over her mantle.
Find Katie Smith Photography on Facebook.