Katie Smith
The Mebane photographer for happy families
Fast Facts About Me
I've been married 13 years.
I have 2 sons and a daughter.  They are my favorite and my most difficult subjects to photograph.
I love sweet tea the way some women love coffee and wine.
I could eat french fries every day.
I wanted to be a crazy cat lady but realized there is a limit to my crazy so I currently have 2 cats, a dog, and a small flock of chickens.
*****
Happily Ever After was only the beginning
My story started as your stereotypical teenage chick flick.  Awkward girl meets cute boy in high school.  High school drama ensues but then prom comes and they live happily ever after.
The real adventure started after our "Happily Ever After" moment.  We married at 18 and my husband went to basic training a few months later.  During our time as a military family, we had two kids, moved several times, and made a lot of memories.  After 10 years of being a military family, life threw us a curve ball and we found ourselves starting a new chapter outside the military.  We came back to North Carolina, had our third child, and finally found a forever home in Mebane, NC.
Finding myself in photography
I took a lot of photos as a kid: cheesy beauty pictures of my sister, mundane objects from vacations, and lots of cat photos (before the internet made cat photos cool).  I began to truly understand and love photography after the birth of my first son.  The technical skills fuels my brain and the creativity fulfills my soul.  I love the feel of photos in my hands and know looking at them on a screen will never be the same.   Seeing my children's portraits on the wall reminds me how precious life is and how quickly time goes by.
In 2009, I started Katie Smith Photography.  Since then, I have photographed hundreds of faces.  I've had clients return and I watched their children grow.  I've helped decorate walls with my artwork.  I realized that being a photographer is so much more than being someone who uses a camera.  I look forward to becoming Mebane's favorite family photographer.
Being a photographer is awesome because…
My favorite part of being a photographer is getting to know people.  If you knew me personally, that would probably shock you.  I'm a textbook introvert but there's something about photographing families that allows me to come out of my shell.   Meeting and photographing a family is like being invited into someone's heart.  You get to see the beauty and the love in their eyes.  You see personalities, whether it's through the energetic outbursts or the shy smile.  It's the privilege of getting to share and witness something as tender as a new mother kissing her infant's nose or a son looking up to his dad that makes my heart feel all warm and fuzzy.
What's in my camera bag?
I use a Canon 5D III.  I usually keep the Canon 135mm f/2L attached but I like the Canon 24-105mm as my walk around lens.  For the beginning of my photography and motherhood journey, I almost always had a camera in my hands but these days, I tend to put the camera down and be an active participant in my kids' life.  When I must capture the moment, I use this quote as my mantra: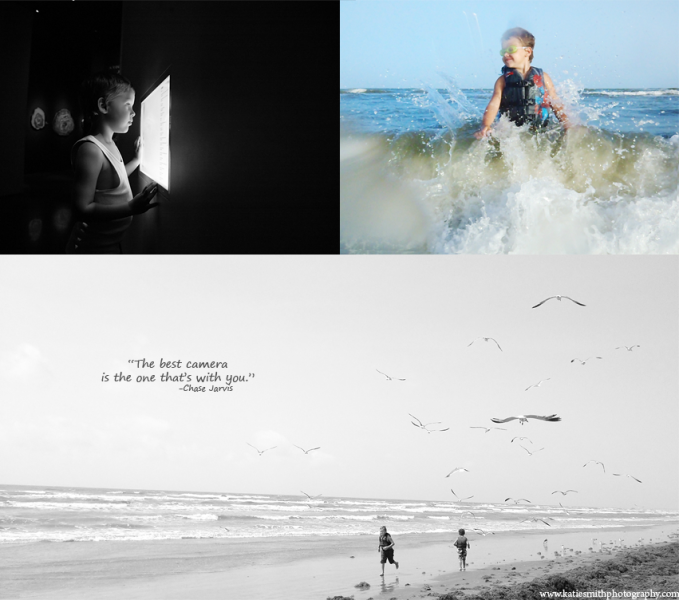 Photos taken during our 2013 Galveston vacation.
Top left: DSLR, top right: waterproof compact camera, bottom: cell phone