Last year, I had no intentions of doing an expo.  I had heard that they weren't very successful for us photographers, especially when you are one of a handful in the room.  Then I saw the sign up and before I could talk myself out of it, I was committed.  The expo was this last Saturday and even though I had shaky knees and butterflies in my stomach the entire time, I LOVED it.  I honestly feel like it was a huge success and I wanted to share my tips with other photographers that may be thinking about participating in their first expo.
Tip #1- Know the attendees.
This particular expo was the Fort Hood Army Wives expo.  It was open to the public but I knew the majority of the traffic would be Army wives.  I hate to stereotype us but I knew I would have mostly young married couples or young families.  Being a couple and family photographer, this was perfect for me.   If I was a wedding photographer, I may not have been as successful.
Tip #2- Stand out.
When I signed up, I knew I would get an 8ft table with my booth.  Sure, it was a free table that I wouldn't have to lug to the convention center but all the the vendors had the same exact table.  So I declined it and created my own set up.  I bought two cute metal music stands and the rest was odds and ends from my prop closet.  Plus I brought my small kitchen table to display my desktop computer to the side.  I was able to stagger the heights of my images to create more visual interest.  I also made sure my props were natural-colored so my images wouldn't be out-shined by my set up.
I carried the same concept over to my clothing.  Instead of wearing a very professional grey dress pants and black blouse, I opted for a black skirt and magenta top.  I made sure I looked well put together but I could still stand out.
Tip #3- Go big or go home.
I brought two 20×30 prints, two 20×30 canvases, a 10×20 storyboard, an 11×14 metal, and one tiny 8×10.  I could have showcased more variety with lots of 8x10s and 5x7s but I don't specialize in desk prints, I specialize in wall portraits.  Remember what products you specialize in and show them off.  For more variety, I showed a slideshow on my desktop.  The items that got the most attention was the 12×12 album and the black and white canvas.
Tip #4- No barriers.
If you choose to have a table, do NOT stand behind it or worse, SIT behind it.  By placing the table between you and the person you are talking to, you are subconsciously telling them "You are just a customer" and they'll feel more like you are trying to sell them something.  If you stand in front of your booth, you'll be closer to them and it relaxes the tension.  You'll have a more genuine conversation and get to know people better.
Tip #5- Bring an assistant.
I'm shy.  The idea of approaching strangers makes my heart pound in my chest.  So I brought my super awesome friend to break the ice.  She would practically thrust a business card at anyone that glanced our direction.  If they paused, she would talk me up and then direct them to me for more information.  This worked amazingly for us.  She knew enough to give them the rundown of how I work but still left enough out that the people would want to chat with me.
Tip #6- Get contact information and follow up.
Because we are portrait photographers, we can't really expect sales or bookings at the expo.  What we rely on is growing our potential client base and it takes more than just handing them a business card.  I did a gift certificate giveaway at my table.  To enter, they left their name, phone number, and email.  The day after the expo,  I sent a 'thank you for stopping by my booth' email to each person.  Included in the email was a small gift certificate offer, all they needed to do was respond with a mailing address.  I'll mail the gift certificate this week.  This means I'll have been in their thoughts three times, more if they don't unsubscribe to the mailing list.  Each time I'm in their thoughts I increase my chances of them booking me when they need a photographer.  If you send an email, be sure to follow the CAN-SPAM rules.  Also to make life easier and the email prettier, you can use a website like MailChimp.
Tip #7- Take notes.
Sadly, this lesson was learned after the expo.  I talked to so many amazing people that all the names and faces have become a blur.  Next time, I'll write a couple notes on their contact information so I'll remember if they had the awesome 40's themed family session idea or had five sons or were needing senior portraits.
Tip #8- Don't forget to your logo.
Unfortunately, I waited until the last minute and then a mix up with the local lab caused me not to have my business name on a large sign.  Thankfully, I had worked it into the slideshow on my desktop and it flashed every 10 seconds.  Plus it was on a few smaller signs.  The more times they see it, even if they aren't truly reading it, the more likely they'll remember you.
Tip #9- Don't forget to network with the other vendors.
We're all there to promote ourselves and try to do the best we can.  At some point, walk the room, compliment other vendors, and make genuine contacts.  Don't just snatch a card and keep walking.  If you can help another business, do it.  Cross promotion is a wonderful thing and you never know where your next client might have heard of you.
Tip #10- Have FUN!
Over the course of the day, you'll go from being slammed with crowds to seeing the same face over and over.  As you get close to closing time, you'll be tempted to start tearing down as you look forward to taking off your uncomfortable shoes.  Try to remain upbeat and friendly throughout the day and remember it's not about the quantity of people you talk with but the quality of the conversations.  Enjoy learning about the people in your area and what they look for in a photographer.
This wasn't my first expo but it is the first where I left feeling positive about the experience.  I still have room for improvement and look forward to the fall expo.
Do you have a tip to share?  Please leave it in the comments.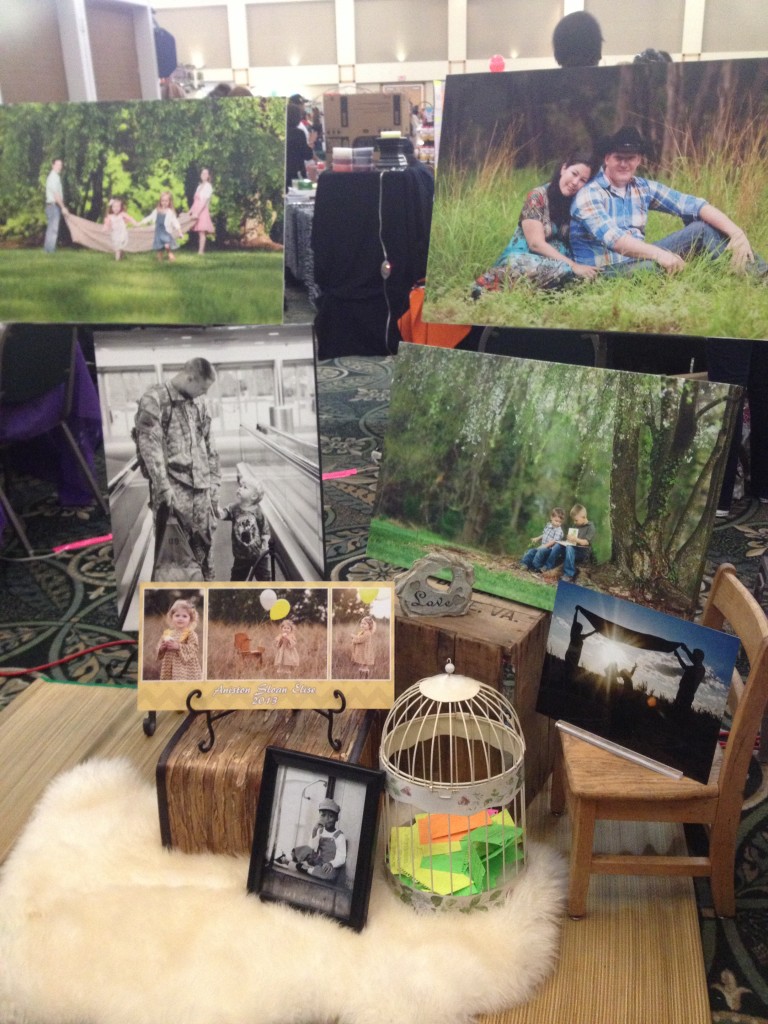 iPhone photo
Katie Smith is a family and couple photographer in Killeen, Texas.
She likes backlighting, bright colors, and genuine smiles.
When not photographing the most awesome people in the world, she enjoys coming up with fun new concepts for photo sessions.
You can find Katie on Facebook or email her using the contact page.