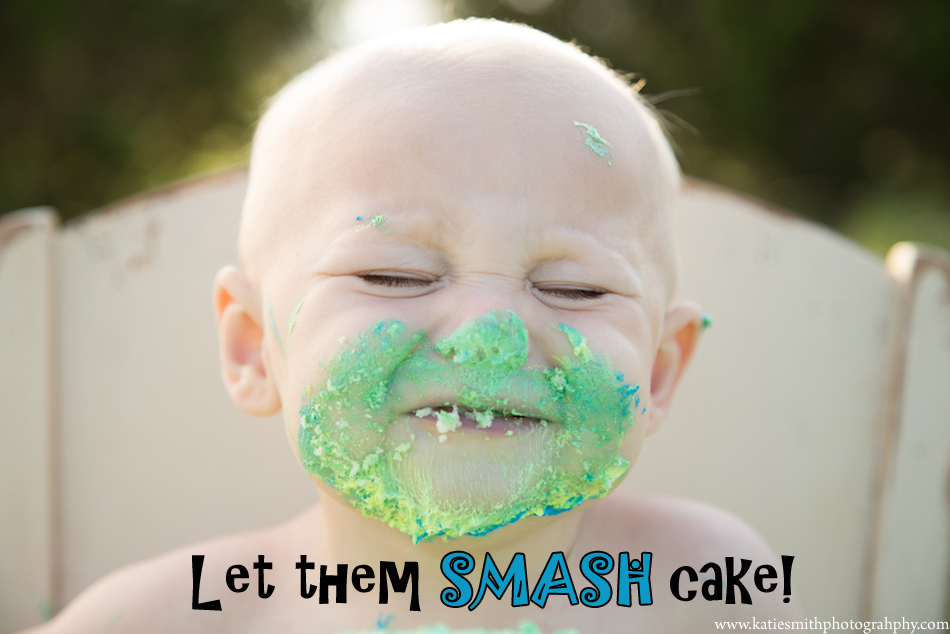 While you might be getting teary-eyed at the thought of your baby turning one, a cake smash is a fun, messy way to celebrate this milestone.
B.Y.O.C. (bring your own cake)
Please bring your own cake.  Due to food allergy concerns, I cannot provide the cake.  I'd be heartbroken if your child had a reaction.  A traditional cake smash is 6″ but you can also bring a cupcake.
Please no red or brown icing or chocolate cake.
It's adorable on the cake.  Not so adorable smeared across your child's face when it looks less like cake and more like a diaper-explosion or vampire baby.
On-location cake smash
Cake smash at the park?  No problem!  If you're worried about your kid eating dirt, we can bring a quilt or my vintage highchair.
The three types of Cake Smash Babies
The Diver– Nom Nom Nom No need to taste-test. The little guys and girls dive into the cake mouth first.  No questions asked.  Don't even try to take that cake away until they are done!
The Taste-Tester–  What's the stuff?  Why is it mushy?  mmmm…. This tastes good.  YUM YUM YUM!  They might take a few minutes to explore this mound of sugar in front of them but once they get a little taste, it's all she wrote for that pretty little cake.
The Clean Freak–  EWW!!! It's squishy!  It might taste yummy but it requires getting icing on those precious fingers and to some babies that's just plain icky!  You can chance a meltdown by putting her hand in the icing or you can get perfectly clean photos of her beside her cake.  (bonus: YOU get to eat the cake since they didn't demolish it)
Whatever your child's cake smash personality, you'll still get adorable portraits.
Make clean-up fun!
When the weather is nice, I'll happily bring a tub and warm water to wash your child off.  We can even do fun clean up photos. If the weather isn't warm enough for a bath, please bring lots of baby wipes.  Don't forget a change of clothes!
Show off the photos
The best thing about cake smashes is that they tell a story.  From the first time they lay their eyes on this sugary wonder to when they crawl away with icing in their hair, the photos work together to tell about the first time your child had birthday cake.  A storyboard is a great way to showcase the photos together!