It's here!  It's finally here!  Though it's cold and dreary today, it is officially spring!  I've been gushing over patches of daffodils and smelling tulips.  I've been playing in mud puddles with my boys.  I'm just so excited for spring!
If you love spring as much as I do, now is the perfect time to schedule family portraits.  There's bright, beautiful colors everywhere just begging for a beautiful family like yours to take a portrait with.  You never know when a storm will roll in and knock all those beautiful blooms out of the trees so schedule soon.  I have three available sessions in April and only one in May.
I wanted to give a few reminders…
Tutu Cute! Limited Edition Mini Sessions are April 2nd!  Designed just for little girls from six months to five years old, these mini sessions are full of girly cuteness that you cannot miss.  I've had a couple cancellations so there is still spots available!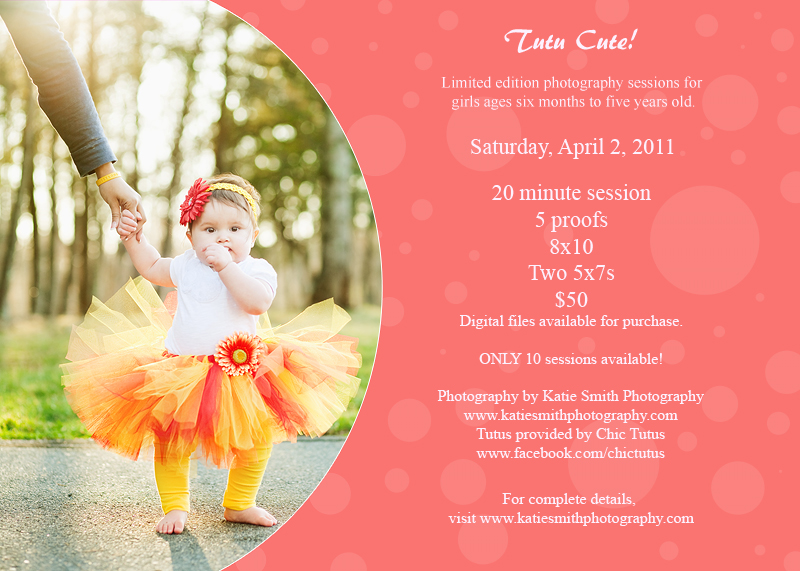 I've spent the winter focusing on what I love most about photography and it's capturing memories and personalities.  In the photography world, we call it "Lifestyle Photography" and I've written a blog post about it, "Lifestyle Photography: The ULTIMATE Custom Photography Experience"  In the past couple months, I've documented the love of an engaged couple, the joy of the mother/daughter bond, a birth, a birthday party and more. I've loved every minute of these sessions and can't wait to get to know more families in 2011.
If you would like to remember your child's birth or birthday through professional photographs, please email me at katie@katiesmithphotography.com.  I'm currently looking to add images to my portfolio from these two occasions and offering special incentives for allowing me to document them.
Love me?  Want to share your images with all your friends and tell everyone how much you loved your session?  I would appreciate it if you do and as a thank you, I'll give you gift prints of your choice.  You can earn a Thank You print by getting 15 comments on your sneak peek, posting a review on my google place page, posting a review on my Facebook page, and by sending me a testimonial for website.  You can earn up to four free gift prints and a great big THANK YOU… maybe even a hug…. or maybe not, I'm not really a hugger… but definitely a thank you. lol
I hope your spring is full of happiness!  Thanks for reading!
Katie
PS Here's some recent cuteness of my rugrats…