A couple months ago, my husband and I started watching Merlin on Netflix.  If you haven't seen it, it's a cute show- a little quirky, the perfect amount of romance, and pretty wholesome overall.  As we made it through each season (and ending with me tearing up at the series finale), I knew I would eventually do a King Arthur-inspired shoot.  I loved the costumes and lighting in the show.  After last weekend's trip to GeekFest and seeing a medieval roleplaying group, I decided I had to do the session ASAP.    That meant no time for prop collecting, spray painting, or spending hours combing the internet for instructions.   It was all about what I could pull out of the toy box and closet.
D.I.Y. Kid's Knight Costume
(for moms short on time and money)
You need:
Cape (I bought mine a long time ago but you can definitely get by with the old school towel safety-pinned around the neck.)
Gray Pants
Gray long sleeve shirt (thermal undershirts work great)
Leather belt
Helmet  (got lucky that one was in my kids' toy box)
Sword (instructions below)

Shield (cardboard wrapped in duct tape)
The sword is made of PVC pipe and foam pipe insulation, both easily found at your local hardware store.  The pvc pipe is .75″ thick and cut into a 2′ (blade), two 3.5″ (crossguard), and a 7″ (grip) lengths.   Assemble the four peices of pvc pipe with a pvc four-way connector (double tee connector).  For best results, glue the pipes and connector together so the blade doesn't fly off during battle.  Slide the foam around the pvc pipe leaving an extra two inches of foam on all sides (I liked having a cushioned grip.  My husband chose to skip putting foam on the handle.  He said having the blade heavier made it easier to handle.)  Fold the foam over the visible end of the pvc pipe and tape with duct tape then wrap the sword in duct tape.  And viola!  The great thing about this sword is you can actually fight with it and it doesn't hurt (that bad).  Much better than the cardboard sword from my pirate session that bent or getting hit with a wooden sword.  I think we spent $30 to make four swords.
As I've said before, I love simple homemade costumes and this one is no exception.  All it takes is a resourcefulness and a little imagination.  Now go slay some dragons. 🙂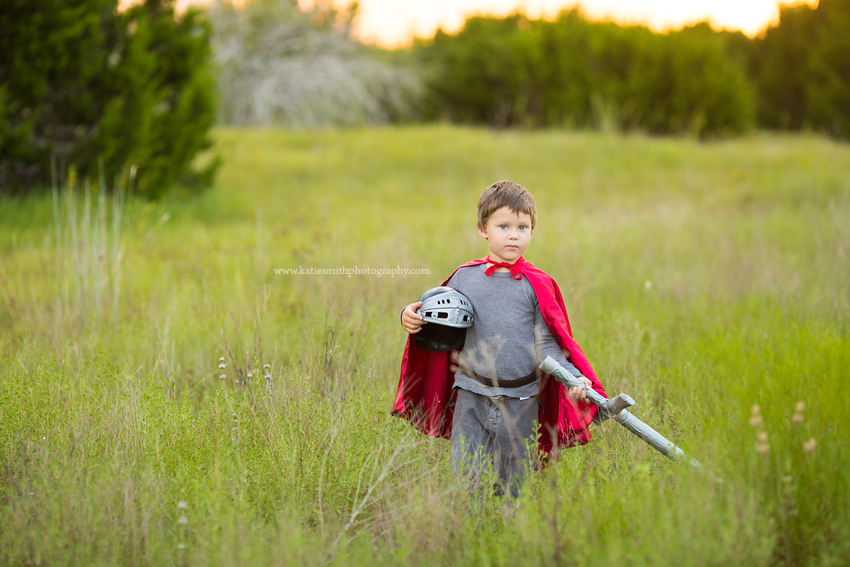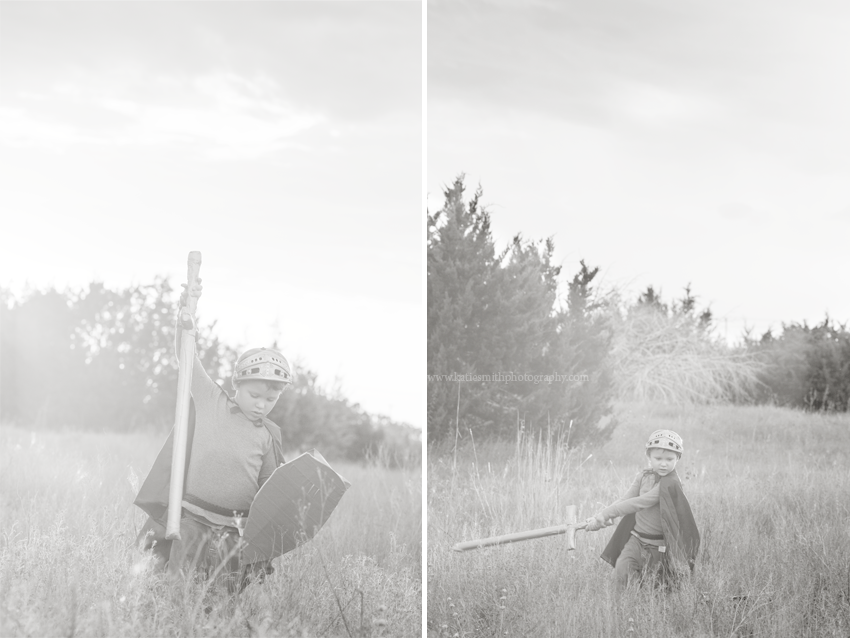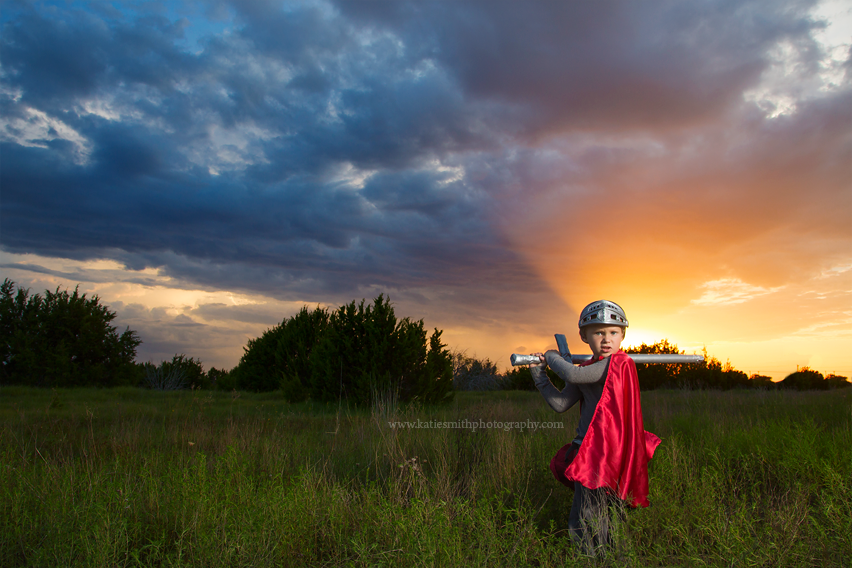 Katie Smith is a photographer in Mebane, North Carolina.
She loves childhood imagination, gorgeous sunsets, and models that will work for ice cream.
Find Katie Smith Photography on Facebook.