How To Get Your Teen to Want to Take Photos
By: Tandra from thrillermom.com
Just because your teenager likes selfies & photos with friends, doesn't mean you'll get the same enthusiasm for family photos. Are you reading this post because you've figured that out already? Let's talk about it.
As the mother of an almost 14 year old, I get it. I also understand the frustration. My daughters have grown up in front of the camera, however, that doesn't mean they've always cooperated.
My oldest was most excited to take photos until around the age of 12. That was when she slowly began to shy away. When I inquired about the sudden change, her reasoning varied but behind the scenes became her sweet spot.
Considering that my line of work requires frequent camera time & often includes my daughters, I had to figure something out. Here's how I've learned to work through my teen's reluctancy to be in photos.
Share Creative Control
When working on the concept of our photoshoots, I allow my daughters to help me plan. Unless there are non-negotiables businesswise, we all get a say in the attire, colors, theme, etc. Resist the urge to force your teen(s) to do or wear something they strongly oppose. The more input they have, the better output you'll get from them.
Candid Is Key
My teen is honestly a trooper & enjoys participating in my creative antics. However, she's not a huge fan of posed photos. She prefers more candid captures (as do I). If we can get the shot, I don't have a problem with that. I never consider projects all about me & my wants.
When we have to do specific poses & expressions, that's when sharing creative control really comes in handy. Because my daughter is already confident in her attire & appearance, she has way less hesitancy. Trust me, it goes a long way!
Relax & Have Fun
I know family photos are important. And as I mentioned, I also understand the frustration when cooperation isn't there. I've learned, however, that sometimes things just aren't going to go the way I want them to.
Our teens have their own minds… likes & dislikes, wants & needs. They are individuals like everyone else. Just because the photos are important to us as parents, doesn't mean they feel the same. In no way am I suggesting you tolerate disrespectful behavior but if that isn't a factor, ask yourself…
Is it really that serious if your teen isn't smiling (the way you'd like) in the photo?
Is it really a big deal if they want to express themselves differently than everyone else in the photo?
A personal example…
My family was preparing for brunch at a fancy-ish restaurant. Anytime we're heading out, I tend to put unreasonable pressure on myself to ensure everyone looks perfect. Inevitably, I became frustrated & eventually bumped heads with my oldest.
Not long after the incident, I wanted photos of us before leaving. Everyone was well put together & I knew that wouldn't last long. My daughter was still unhappy with me & understandably not in the mood. She smirked for the photo but didn't smile. Her unhappiness was evident!
Did I fuss more or try to force her to smile? No. She's human & that wasn't the truth of that moment. I knew there'd be time for more photos later & she'd be in a better mood. Respecting her truth was more important to me than a facade of glee.
The Bottom Line
Again, I understand your sentiments about family photos. I GET IT. My goal here is to encourage you to focus on your happiness & the smiles that are present. All you can do is your best. And choosing to smile with the other smiling faces of your family will equate to a much better experience.
Someday you'll all look back at those photos & laugh. Your teens may see themselves in that moment & apologize. You never know! Whatever happens during your shoot, take deep breaths & appreciate the moment. Remember, energy transfers so stay as calm as possible.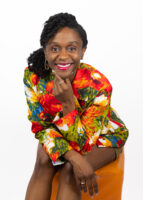 Tandra is a mom, a blogger, an adventure, and an all-around amazing women.
Check out her website at http://thrillermom.com and follow her on Instagram as @thrillermom