Hey, moms!
In this edition of the Katie Smith Photography's Mom Guide, we're talking about hiring the right photographer for your family! Not all photographers are the same so let's talk about defining your family portrait style, setting a realistic budget, and how not to get burned by a less-than-professional photographer.
Step One: Define Your Portrait Style
What photos of your family make your heart melt? Does your ideal family portrait have everyone looking at the camera or is it a candid portrait of everybody looking at each other? Do you want a little of both?


A note about "candid" photography- There's two kind of photographers that will capture your family in action. Documentary photographers are a fly on the wall, capturing life as it happens without giving any direction. Lifestyle photographers, on the other hand, are like directors. They help set the scene and bring moments to life by giving prompts like hug, cuddle, spin in a circle, etc…
Personaly I find beauty in both, the perfectly posed portraits and heartwarming candids. I help my clients pose so they look their best. You never have to worry about what you should do with your hands or having a double chin. In between these perfect poses, I suggest prompts that bring out the laughs and genuine smiles.

What editing style are you drawn to? Right now, three main styles are clean and classic (me!), light and airy, or dark and moody.
Step Two: Set A Realistic Budget
Before picking a random number, think about the end result. Do you want a canvas over your couch? Do you want a wall gallery going up your staircase? Do you want to plan it by yourself or do you want expert advice from your photographer? Do you want the digital files so you can print them yourself- be honest, will you print them or will it be another item on your never-ending to-do list?
The Digital File Myth
There's a misconception that digital files should be cheaper than prints. The best analogy is that a print is one amazing dinner from your favorite restaurant and the digital copies are the secret recipes. You know how much the meal is but how much do you think the recipes are?
Now think about the experience you want. Do you want a photographer that will meet you before the session to get to know you and plan a unique session? Do you want a photographer that will retouch every stray hair and blemish- maybe even do a little nip/tuck if your dress didn't fit just right? Do you want a photographer with a quick turnaround so you're not waiting weeks to see how they turned out? Do you want a photographer that makes ordering easy and prints for you so all you have to do is hang your finished portraits on your wall? If so, I am the photographer you've been searching for.
While everyone loves to save a buck, a cheaper photographer may have longer turnaround times, less experience, lower quality of work, or simply not charging what they're worth. By the way, I'm not shaming anyone on where they are on their professional photographer journey. We all start somewhere.
A more expensive photographer may be offering an experience you don't need. Do you want hand-painted canvas portraits? Do you want access to a client closet full of designer gowns? Do you need hair and makeup? Some photographers offer a true luxury experience and are worth every penny if you value that experience and the art they create.
What if you fall in love with a photographer's work that's not in your budget? You could ask about payment plans or purchase gift certificates. You could book a mini session instead of a full session. You could purchase less photos. After all, do you need 50+ images from the same session? Most of my clients like all their photos but when it comes to 'does this photo make your heart skip a beat' They can narrow them down dramatically.
There's nothing wrong with setting a budget and there's no right or wrong answer to what your budget is but you do need to be clear. Asking for "reasonable" or "affordable" recommendations in local groups is not just unhelpful, it's rude to the photographers trying to put food on their table. If you're asking for recommendations, be specific about what you want. Try "I'm looking for a family photographer for outdoor portraits. My budget is $____ and I want prints/digital files/both. Who do you recommend?"
Step Three: Avoid the unprofessionals.
I've had a handful of clients tell me their photographer horror stories. From photographers that refused to answer the phone to photographers that took three times longer than expected to deliver or worse- 'photographers' that took the money and never delivered! Here's a few tips to make sure your photographer is legit:
Read reviews and make sure they're spread out over time.
Check out their website making sure it has contact information, not just an email.
Do they charge sales tax? If so, they're set up with the state to be legit.
Is their Facebook and Instagram photos consistent? Do they have a clear sense of style so you know exactly what to expect?
Photographer Horror Story
There's been more than a few cases of 'photographers' trying to pass off other photographer's work as their own. Sometimes they'll just call it their "inspiration" for an upcoming mini session. Always compare the image in an ad to the images in their portfolio. If there's one jaw-dropping image but mostly amateurish photos, the gorgeous photo could be stolen or it could have been taken at a styled shoot hosted by other photographers.
Step Four: Reach out and don't be afraid to ask questions.
Don't just skim their website or client guide. Take your time to read it. Look for the answers to the following questions and if you don't see them, ask!
What's your turnaround time?
What is your refund and/or reshoot policy?
What is your digital file policy?
Are you up-to-date on immunizations? This is especially important if they'll be handling your baby.
Do you have insurance? Accidents happen but can they replace your favorite vase or send a handy man to patch the hole in your wall if their lightstand falls over?
I would love to be your family's photographer and watch your children grow up in front of my camera but I'm not the photographer for everyone. If you love a mix of candid and posed photography, want wall art or albums because deep down you know you never find time to print your own photos, and are looking for a professional with over a decade of experience, a quick turnaround time, and has insurance though I've never had to use it. I'm your girl. Give me a call and we'll create beautiful art from your memories.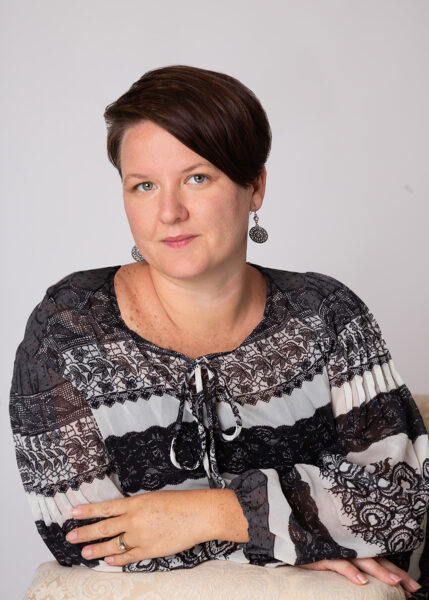 Katie Smith is a family portrait and headshot photographer. She started Katie Smith Photography is 2008, moving her business four times before settling in Mebane, North Carolina in 2017.

She loves capturing relationships and the smallest moments that make the biggest impact.