I love being a family photographer.  The best part is watching a family be themselves and seeing how they interact with each other.  The loving way brothers taunt each other, the jokes the parents tell, the moments I capture without having to prompt them with "act like you like each other!"  Sometimes a family will come along and they remind me so much of my own- fun and laidback with two rowdy but good natured boys.
The G Family is one of those families.  We met at Chalkridge Falls a couple weeks ago for a fun, casual family photo session and I got to meet their wonderful sons.  I had a great time walking the trails, chatting about Star Wars and Legos, and skipping rocks on the river.
Thank you G Family for having me take your 2013 family portraits!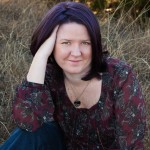 Katie Smith is a family portrait photographing serving the Central Texas area.
She specializes in balancing the beauty of real moments and skilled posing.
When not behind the camera, you can find her snuggling her four year old and challenging her seven year old to an intense game of Guess Who?
Find Katie Smith Photography on Facebook.